Many disease processes are the result of nutritional deficiencies and, unless you eat a strict diet of organic fruits, vegetables, beans, nuts, and whole grans, it is highly recommended that you take high quality nutritional supplements to help you maintain or improve your health.
Lehane Chiropractic carries a line of nutritional supplements in office, by Metagentics.
This is a multivitamin that takes you beyond basic wellness support. It has a proprietary blend of 13 concentrated extracts and phytonutrients with scientifically tested biological activity to protect your cells and maintain DNA stability–activating your health potential like no other supplement.*

Advanced Joint Support : Is designed to provide broad support for health joint by providing high quality Glucosamine Sulfate and Chondroitin Sulfate, nutritional factors know to support cartilage health and soft tissue formation. This well rounded formula also features Methylsulfonylmethane for cartilage health as well as zinc, copper, manganese, and selenium to support antioxidant enzymes that may protect joint tissues.
Metagenics OmegaGenics EPA-DHA 300
Support for Healthy Cardiovascular, Immune and Overall Health. Features a concentrated purified source of pharmaceutical grade omega 3 fatty acids from sustainably sources, cold water fish. Each softgel provides a total of 180 mg EPA and 120 mg DHA.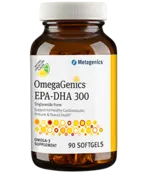 A high potency, bio-available Vitamin-D that features 5000iu of vitamin D3 in easy to swallow soft gels. This bio-available form of Vitamin-D is solubilized in oil to support absorption in the intestinal tract.
A Nighttime Muscle Relaxation Formula: A blend of minerals and herbs that are designed to provide comprehensive support for the musculoskeletal system. The components of this formula work in concert to support healthy muscle relaxation and address occasional sleeplessness.
All OmegaGenics formulas are tested for purity and quality and are stabilized with antioxidants to maintain freshness.